Map Unavailable
Date/Time
Date(s) - 25/04/2020
9:00 am - 5:00 pm
Location
Ancora Imparo Equine Center
Categories No Categories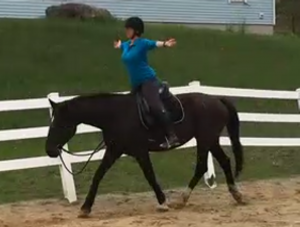 Cost:
Rider – $200/day
Auditor – $15/day
To reserve your rider/auditor spot please contact Laura Inman, 603-505-2561, info@healinghopefarm.com
We will begin the day doing off horse exercises and then proceed to do online and riding sessions focusing on both the horse and the rider.
I am super excited to introduce some of the things I have learned in Cost Rica with Ale Gonzalez and Kristi Smith,, finding position on an exercise ball or mounting block, and so much more! We will apply our off horse moments to our on horse moments and we will also look at even connection with the reins in softness and harmony.
We will also look at how we can help our horses find straightness in their body – because we both affect one another! I will share ground exercises you can use to help your horse be more balanced before you get on and then more exercises in the saddle. I look forward to sharing lots of exercises you can do with your horse to help both of you be in better alignment so you can move in harmony together!
Rider Spots (6 Total):
Stacia Langille
Debi Folsom
Linda Gott
Cindy Lou Dougherty
Carrie Hartranft
Shira Nafshi
There are unlimited auditor spots available.
Ancora Imparo Downloadable Waivers:
http://www.healinghopefarm.com/docs/Ancora%20Imparo%20Vaccination%202017.pdf
http://www.healinghopefarm.com/docs/AIEC%20Liability%20Waiver%20and%20Photo%20Release.pdf
http://www.healinghopefarm.com/docs/Ancora%20Imparo%20Equipment%20Waiver%202016.pdf
http://www.healinghopefarm.com/docs/Ancora%20Imparo%20Minor%20Release%202016.pdf
Healing Hope Farm Waiver for Download:
http://healinghopefarm.com/docs/2017HHFRelease.pdf
http://healinghopefarm.com/docs/AuthorizationEmergencyMedicalTreatment.pdf