Map Unavailable
Date/Time
Date(s) - 25/10/2020
12:00 pm - 2:00 pm
Categories No Categories
Please note the South Beach Parking area on this map…that's where we will be meeting!!  GPS 1 Ocean Blvd, Hampton, NH and you will be close!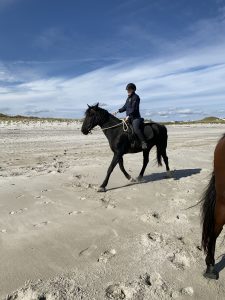 Hi Everyone,
October's Granite State Savvy Club Meeting will be a beach ride at Hampton Beach. We will meet at the RV Campground Parking lot. The address is  Ocean Blvd, Hampton, NH 03842. The entrance is on the left right before the bridge that crosses over into Massachusetts.  The RV Park doesn't give an official address BUT across the street is a business located at 1 Ocean Blvd., Hampton, NH that should get you close!
Date: Sunday, October 25th
Time: Meet at 12:00 PM – low tide is at 2:00 PM
Feel free to just play online or to ride or just come and walk with us if you can't bring a horse. I typically play online for a bit before tacking up and riding because the horses love to roll in the sand and it's a nice time to enjoy the beach and help everyone settle. Folks who just want to ride are free to get on and go and those who want a more slow pace can do that too!
The RV parking lot is huge and has lots of room to park and turn with a horse trailer.
Important things to note:
The bathrooms are closed for the season so there aren't any facilities right there.
It is very important to clean up manure in the parking lot and in the area headed to the beach. We will be bringing muck buckets and forks to leave at the entrance to the beach so we can do our best to clean up quickly.
The following is a link to the State Park Regulations about equines – pages 6-8 are the relevant pages. Horses are permitted at Hampton from October 1st to April 30th.
http://www.nhstateparks.org/uploads/pdf/Res-7300-Parks-and-Rec-Adopted-Rule-eff-030114.pdf
If you have any questions, feel free to email me (Laura) granitestatesavvyclub@mygsc.com or call me on my cell 603-505-2561.
Please RSVP so we will have an idea of who to expect and I can make sure to wait for everyone before I head out onto the beach.
Link to the Granite State Savvy Club Release Form: https://docs.google.com/document/d/1dO28TRUfjYFXxjqGYoPG3HjgGwegq7B5HbrsUmoVAHw/edit
Thanks,
Laura Inman